The Beauty of Matsushima
& Zao Fox Village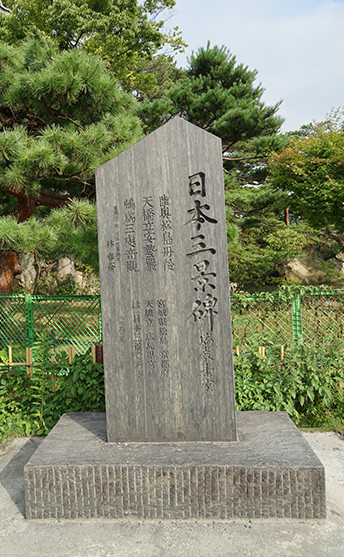 A stone monument to the Three Views of Japan. Amanohashidate and Miyajima have identical monuments.
Named one of the Three Views of Japan along with Miyajima and Amanohashidate, Matsushima in Sendai is one of the Tohoku region's most famous touristic sites. Matsushima Bay is dotted with around 260 islands of various sizes, all covered with black pine trees.

It is no wonder that this has long been called one of Japan's three most wondrous sights.
You can enjoy the beautiful view of Matsushima from an observation deck, or while cruising around on a boat.


If you have time, I recommend either staying until nighttime or finding accommodation in Matsushima to see the area by moonlight.

The famous Edo Period poet Matsuo Basho described it in his travel diary Oku no Hosomichi saying, "The Matsushima moon was already on my mind." It goes without saying that moonlit nights here are gorgeous.
Matsushima on a moonless night

The Daisan Nioh-Maru, a large sightseeing boat
If you are visiting without a car, your best option is to view the little islands and interesting rock formations from one of the cruise boats sailing around the sea. A total of three companies manage all the sightseeing boats in Matsushima.

Large, medium, and small sized boats are available, and each company has different courses prepared to meet various customer needs, so there is a lot of flexibility of choice.

If you would like to experience the basic cruise route, take one of the large boats to see the famous Nioh and Futago islands. The boat will take around 50 minutes (or 40 minutes for a medium sized boat) to go around Matsushima Bay.
Cruise tickets can be purchased at the Matsushima Tourism Association window for ¥1,500.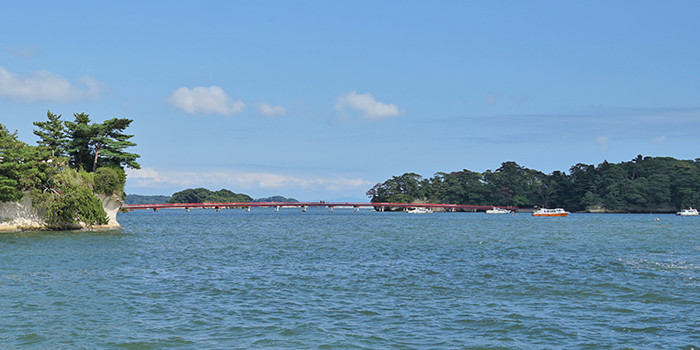 The many little islands of Matsushima Bay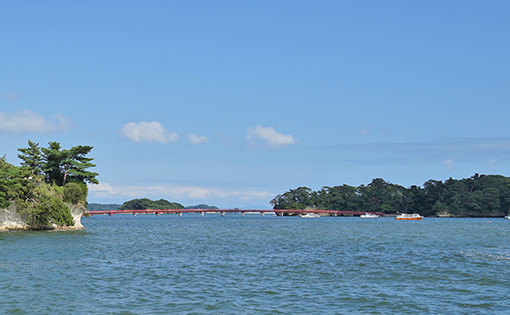 The many little islands of Matsushima Bay
This time, I had the opportunity to visit with Mr. Yabe, a director at Marubun Matsushima Kisen Cruise Company.

Mr. Yabe was very grateful for the support that came in from all over Taiwan after the earthquake. Fukuurabashi, a red bridge connecting Fukuura island to the mainland, was destroyed in the tsunami, but was later restored thanks to donations from a Sun Moon Lake tourist boat company. This was all because of Taiwan's support.

A photo of Sun Moon Lake is displayed at the Fukuurabashi entrance along with words of thanks in Chinese and Japanese. The bridge has now become a bridge of friendship between Taiwan and Japan.
Matsushima looks nice in the rain, too

Fukuurabashi

Mr. Yabe passionately explains the campaign
A lot of Taiwanese tourists actually come to Matsushima as well and the sincerity of the Taiwanese people is definitely palpable. Mr. Yabe also passionately told me about a campaign he recommends.

For ¥1,500, you can go on a sightseeing cruise, experience grilling a local specialty fish cake called sasa kamaboko, and enjoy a baked oyster. This set saves you ¥400.

You can also make reservations in English so check the official Marubun Matsushima Kisen website if you are interested.
https://www.marubun-kisen.com/otoku/ticket.php